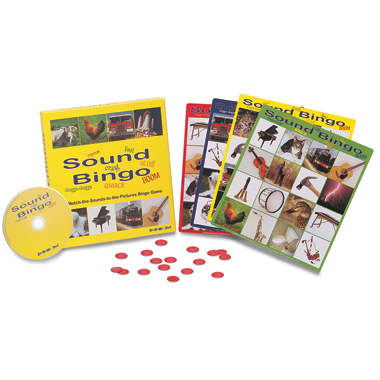 Share this item to Friends via WhatsApp

No. : cql9


Suitable for: Age 4+
Includes: CD, 12 4" x 4" bingo cards, tokens

Is that a bagpipe I hear? Bingo! Players match the sound they hear with the photo on their bingo cards. Children sharpen vital listening skills while they play along. Simply pass out the bingo cards and pop in the CD. Press "random" on the CD player and you'll get a new mix of 24 sounds each time you play.

Get the family together and listen, learn, and laugh together. See who can recognize the rooster, the hammer, the guitar. F is for family fun. Bingo!

For 2 to 12 players.
WhatsApp Buy or Enqury
Connect with Us
Fax: 2372 9098
Flat B2, 4/F, Lladro Building, No. 72 Hoi Yuen Road, Kwun Tong Kowloon ( Kwun Tong MTR Exit B1; next to Kwun Tong Plaza)
Special offers:
5% discount (Abacus Maths, Private Class and Maths are exclusive)
Those who recommend the others to join our courses and who are successfully enrolled after recommendations will be offered 10% discount on first time payment
(All Maths courses and private classes are exclusive)
* We are pleased to provide courses to community centres and schools. The ways of cooperation will be further discussed.
* Parents can form learning groups (a group of 3 is preferable). By this, they can choose the dates and time-slots for the courses interested.

Copyright©Tiny Seed Kinder Studio

×