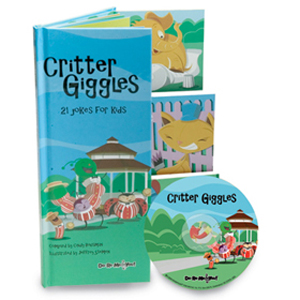 Share this item to Friends via WhatsApp

No. : vqk12


Suitable for: 5 and up
Includes: CD, book.

Description

Get it? A fold-out book full of jokes that your little giggler will share again and again. In the book, hilarious animal illustrations play the straight man to some funny word plays, developing your child*s healthy sense of humor and appreciation for language. He*ll bond with friends when they double over in laughter together playing the CD*s zany songs that encourage creative silliness and even more fooling around with words in tunes like ※Waddly Atcha,§ and ※Boom Boom Ain*t It Great To Be Crazy?§ It sure is.
WhatsApp Buy or Enqury
Connect with Us
Fax: 2372 9098
Flat B2, 4/F, Lladro Building, No. 72 Hoi Yuen Road, Kwun Tong Kowloon ( Kwun Tong MTR Exit B1; next to Kwun Tong Plaza)
https://www.instagram.com/tinyseed06/
Special offers:
5% discount (Abacus Maths, Private Class and Maths are exclusive)
Those who recommend the others to join our courses and who are successfully enrolled after recommendations will be offered 10% discount on first time payment
(All Maths courses and private classes are exclusive)
* We are pleased to provide courses to community centres and schools. The ways of cooperation will be further discussed.
* Parents can form learning groups (a group of 3 is preferable). By this, they can choose the dates and time-slots for the courses interested.
* The list price for group class, we also have provide private classes.
Copyright©Tiny Seed Kinder Studio

×